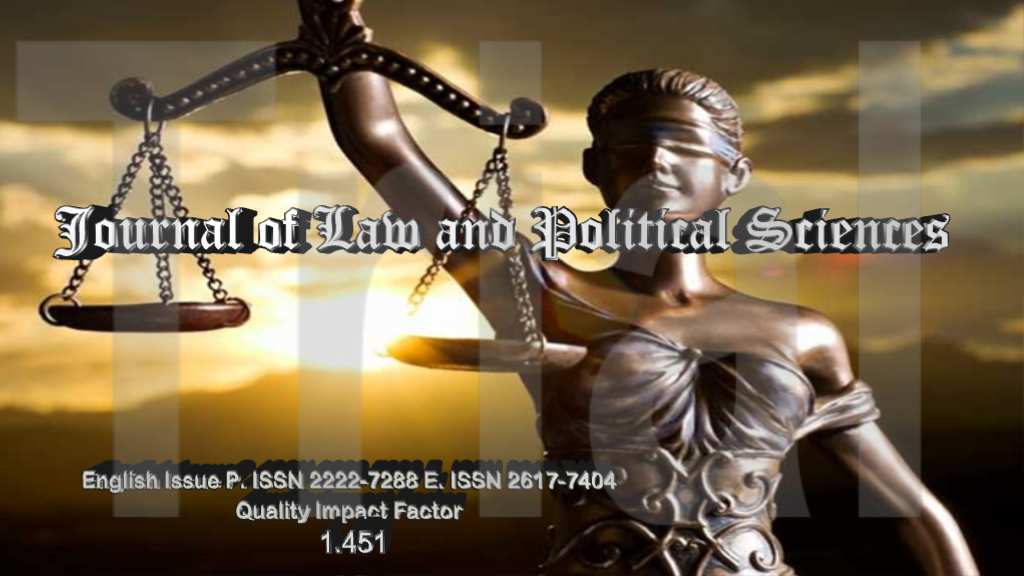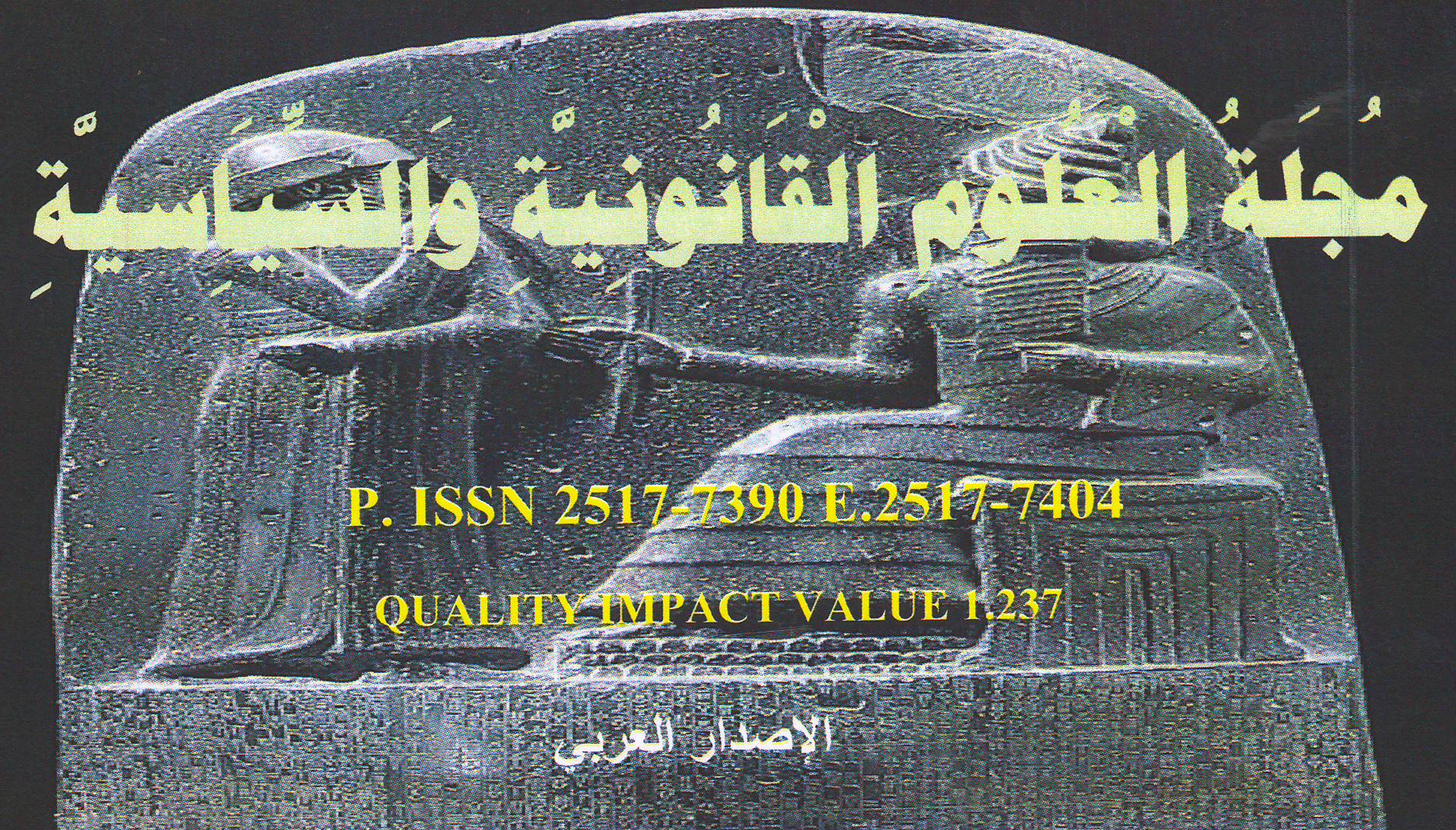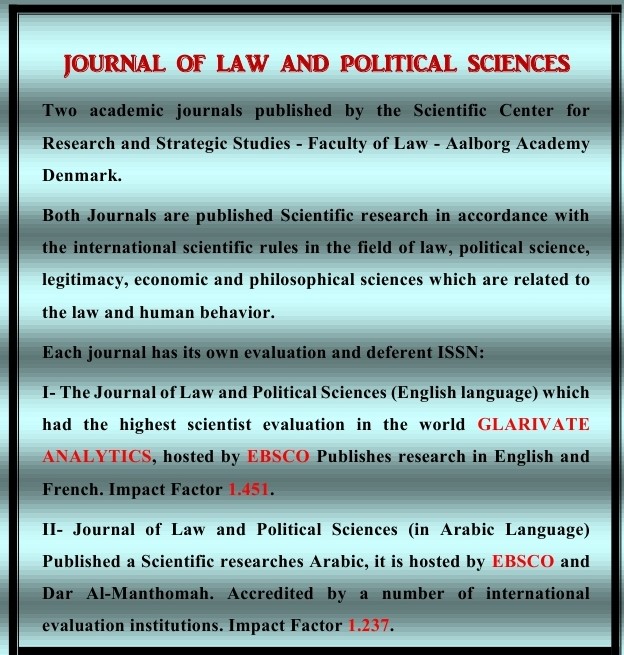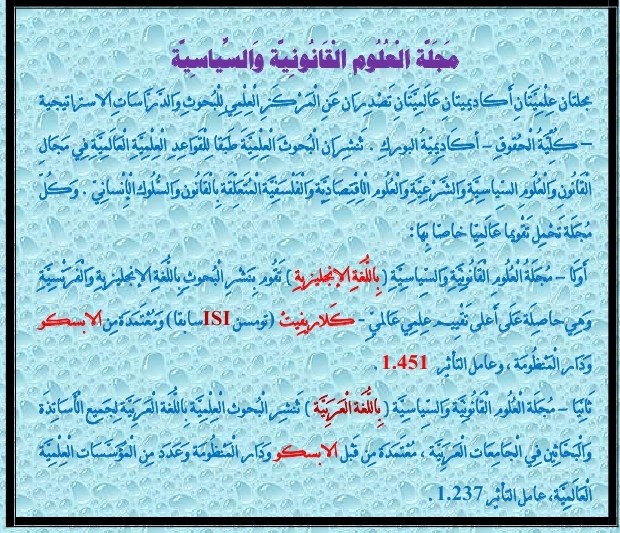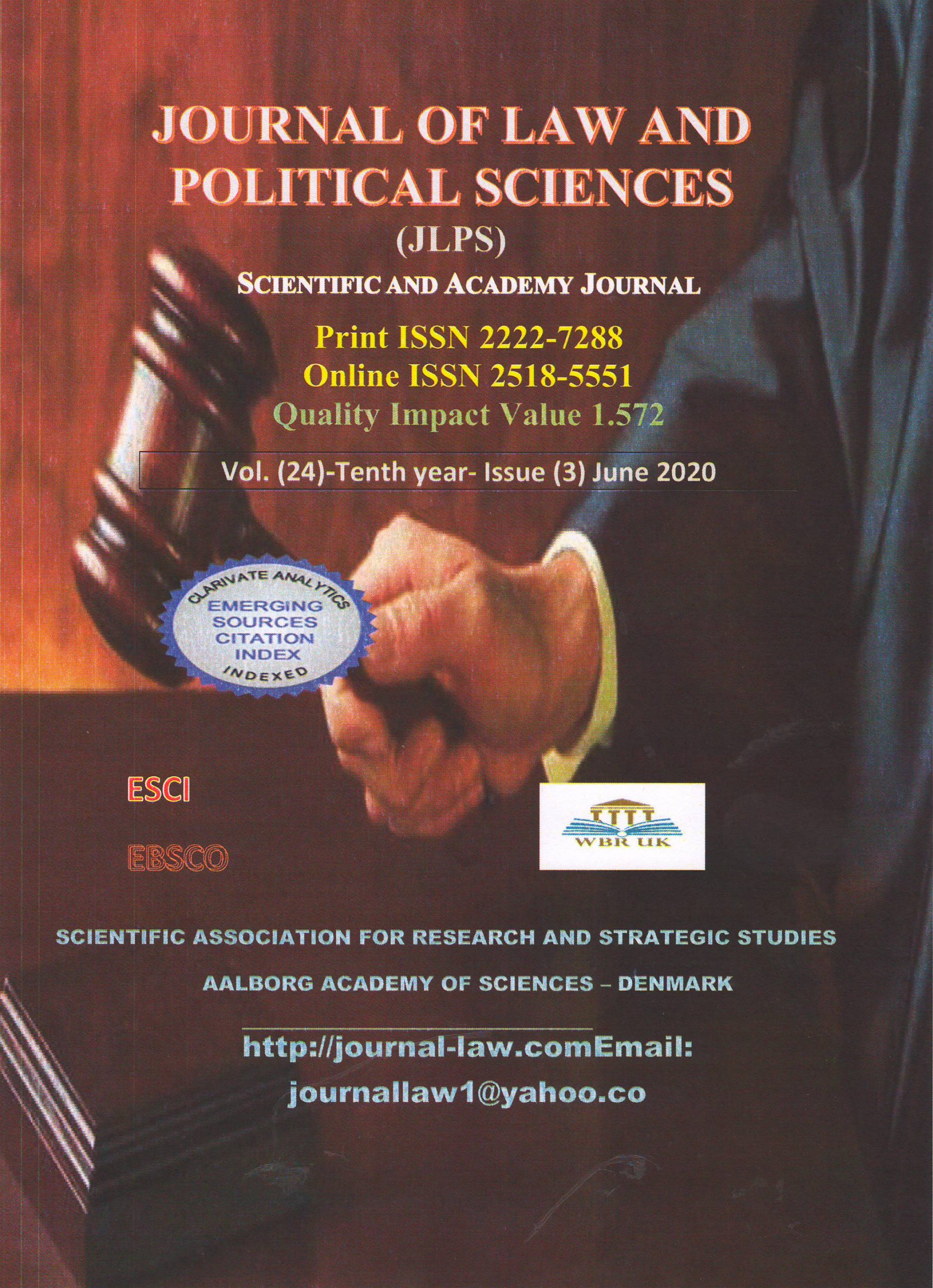 9-Valeriia Filinovych. Domain Name As A Means Of Individualization Of Participants In Civil Turnover Of Ukraine- Ukraine -p. 183.
11- Yana Simutina, Svitlana Synenko. Labour Law Reform In Ukraine: In Search Of Equilibrium Between Protectionism And Liberalisation- Ukraine -p. 247.
13-Alla Basalaieva, Yuliia Leheza. Constitutional Review In The System Of Protecting The Electoral Rights Of Ukrainian Citizens: Status And Perspectives Of Regulatory Base Development- Ukraine -p.294.
15-Volodymyr Kurylo, and Others. Property Protection In The Decisions Of The European Court Of Human Rights In The Field Of Taxation- Ukraine -P. 341.
17-Sofiia Lykhova, Alina Pletenetska, Viktoriia Sysoieva. The Value Of Forensic Medical Expertise For The Qualification Of Crimes In The Medical Activity-

Ukraine -p. 386

.
Participants in the Vol. (24) issue 3 June- 2020 – English version
1-Dmytro Pryimachenko, and Others. The Main Principles Of Customs Administration Activities In Cross-Border Electronic.Commerce –Ukraine -P.9.
2-Dr. Tjung Hauw Sin and Others: The Impact Of The Lack Of Legal Protection On Athletes And Sports Performance In Indonesia-p. 34.
3-Alla Kovalchuk, and Others. Legal Security Of The Academic Freedom Principle As A Factor For The Development Of The Educational Institutions Potential-

Ukraine -p48

.
4-Dr. Rami Omar Abu Rukba: The Liability Of The Investor As A Moral Person For The Crimes Affecting National Economy Jordan-p.71.
5-Tetiana Mikhailina, Оleksander Bykov, Roman Grynyuk. Legal Convergence And Its Impact On The Statehood Constitutional Foundations- Ukraine -p.102.
6-Dr. Anis Mashdurohatun, Danialsyah, Reconstruction of Mediation in Environmental Disputes Settlement Based on Pancasila Justice- Indonesia -p. 123.
7-Viktoriіa Chorna, Liudmyla Batanova, Nataliia Kitsen. Jurisdiction Of Court Protection Of Environmental Rights Of Members Of Territorial Communities In Land Rental Disputes With Local Councils Ukraine –p.139.
8-Majed Saleh Al-Shawabkeh: The Legal Status of the Broker's Work in The Jordanian Securities Market-Jordan-p.163.
10-Dr.Noor Akief  Al- Dabbas, DR.Mohammad Jamal Al- Thniebat Binding effect of the annulment rulings passed by the Administrative Court and resulting Consequences-Analytical and Fundamental Study in the Light of the Jordanian Law-Jordan-p. 215.
12-Dr jehan k samarah alzubi: The Effect Of The Rule Of Law And Its Role On Political Stability In A Country (A Case Study Of Jordan) -p. 271.
14-Dr. Abdel- Kareem Ottallh Al- Karabsheh:The Legal System For Granting The Arbitration Award The Writ Of Execution According To The Provisions Of The Jordanian Arbitration Law No. 31 Of 2001 And Its Amendments For The Year 2018-Jordan-p.313.
16-Olexandr Striltsiv, Igor Andrushchenko, Vasylynchuk Viktor. Fundamental Methods Of Monitoring The Standard Of Living Of A Public Official Who Is Suspected Of Illicit Enrichment– Ukraine -p. 366
مَُجَلةُ الْعَلُومِ الْقّانُونِيَّة وَالسِّيَاسِيَّة -بِاللغَةِ الْعَرَبِيَّةِ

Journal of Law and Political Sciences – Arabic Language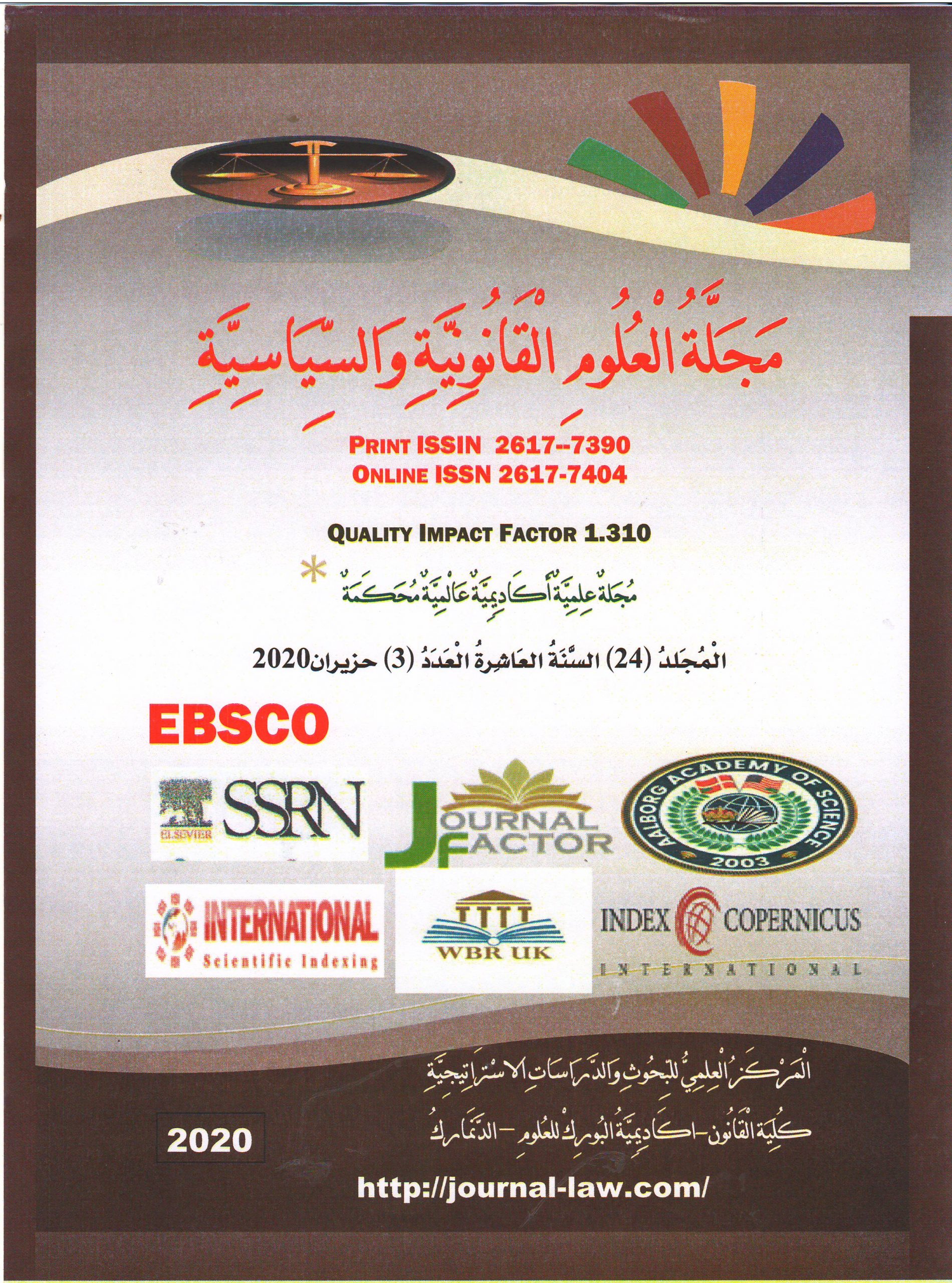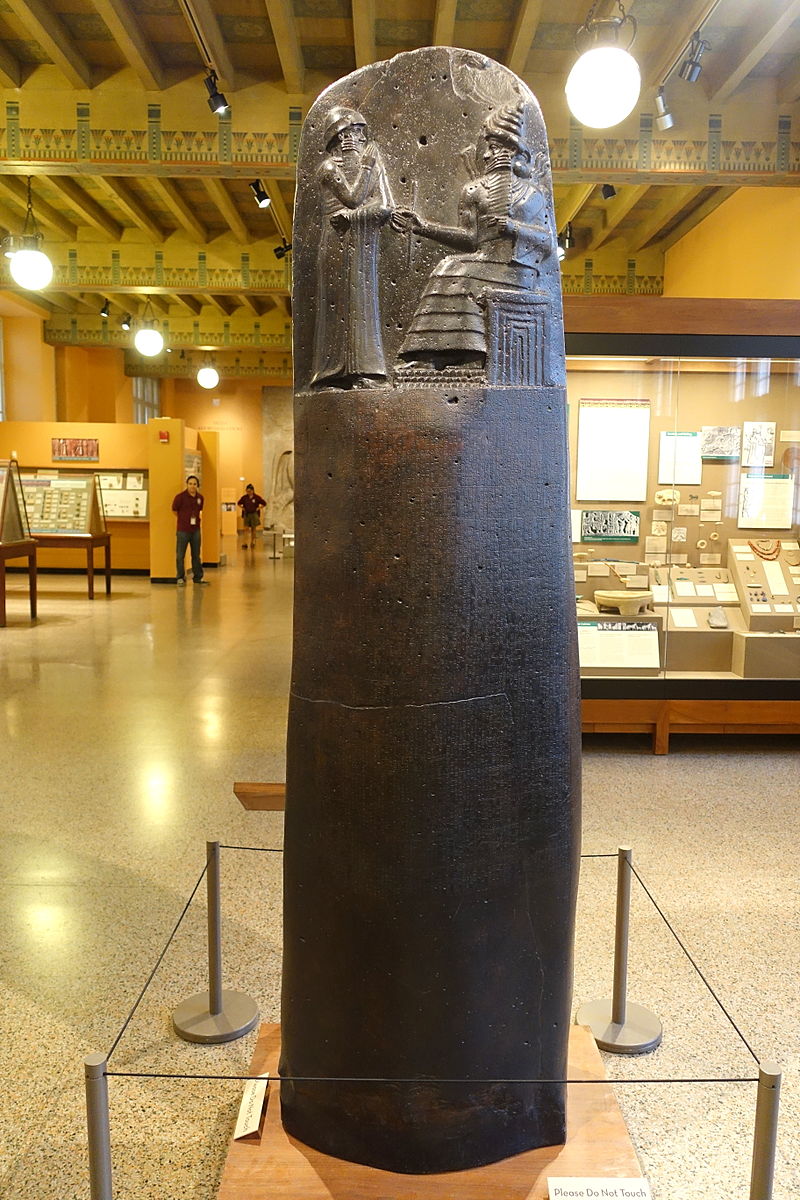 المُشَاركُونَ فِي المُجَلدِ 24 الْعَددُ الثالث -حزيران- 2020

أ . د . أَشجانُ خَالِصُ الزُّهَيْرِيِ- مَعَالِمُ التَّعَايُشِ الْحَضَاَرِيِ فِي الْأَنْظِمَةِ السُّعُودِيَّةِ نِظَامُ هَيْئَةِ حُقوقِ الْإِنْسانِ أَنَمُوذَجً-السعودية -ص

10

.-
 

د . أُسَامَةُ اِحْمَّدُ الْحَنَاينَةُ و د. هَالَةُ الطَّوِيسيُّ- الْقَوَاعِدُ الْمَوْضُوعِيَّةُ النَّاظِمَةُ لِتَقْيِيمِ أَدَاءِ الْمُوَظَّفِ الْعَامِّ بِمُوجِبِ نِظَامِ الْخِدْمَةِ الْمَدَنِيَّةِ الْأُرْدُنِيِّ الْحالِيِّ رَقْم ( 9 ) لَسِنَةِ 2020-الاردن-ص33
. 
د.   مُوسى شَاهِرُ مُفْلِحٍ الرحامنة- مَبْدَأُ الْوَلاَيَةِ التَّكْميلِيَّةِ لِلْمَحْكَمَةِ الْجِنَائِيَّةِ الدَّوْلِيَّةِ وَأَثِرُهُ فِي الْحَدِّ مِنَ الْإفْلاَتِ مِنَ الْعِقَابِ-قطر-ص 64

.
د. شِيمَاءُ حُلْمَي أبْو فَرحَة- أَحُكَّامُ أُجْرَةِ حَضَانَةٍ الصَّغِيرِوَفْقاً لِقَانُونِ الْأَحْوَالِ الشَّخْصِيَّةِ الْأُرْدُنِيِّ الْمُعَدَّلِ رَقْمً 15 لَسِنَةً 2019-الاردن-ص 108

.
   مَرْيَمُ أَحَمْدُ خِلْفَانُ الصَّنْدَلُ – الْاِلْتِزَامُ بِالْإفْصَاحِ كَأحَدِ مَعَايِيرِ حُوكَمَةِ الشَّرِكَاتِ الْعَائِليَّة فِي التَّشْرِيعِ الإمَارَاتِيِّ–ص 143.
د. آمالً بْنٌ صويلح- مِيثَاقُ السَّلْمِ وَالْمُصَالِحَةُ الْوَطَنِيَّةُ خَطْوَةُ هَامَةٌ نَحْوَ الْاِسْتِقْرارِ اِلْأَمِنَّي فِي الْجَزَائِرِ-ص208

.
د. فُؤَادُ الدِّيبِ السُّعُودِيَّةُ -السِّمَاتُ الشَّكْلِيَّةُ لِلدَّسَاتِيرِ الْمِصْرِيَّةِ. ص 247.