The Journal is published in four issues a year: the first issue is on the first of January. The second issue is on the first of April. The third issue is on the first of July. The fourth issue is on the first of October.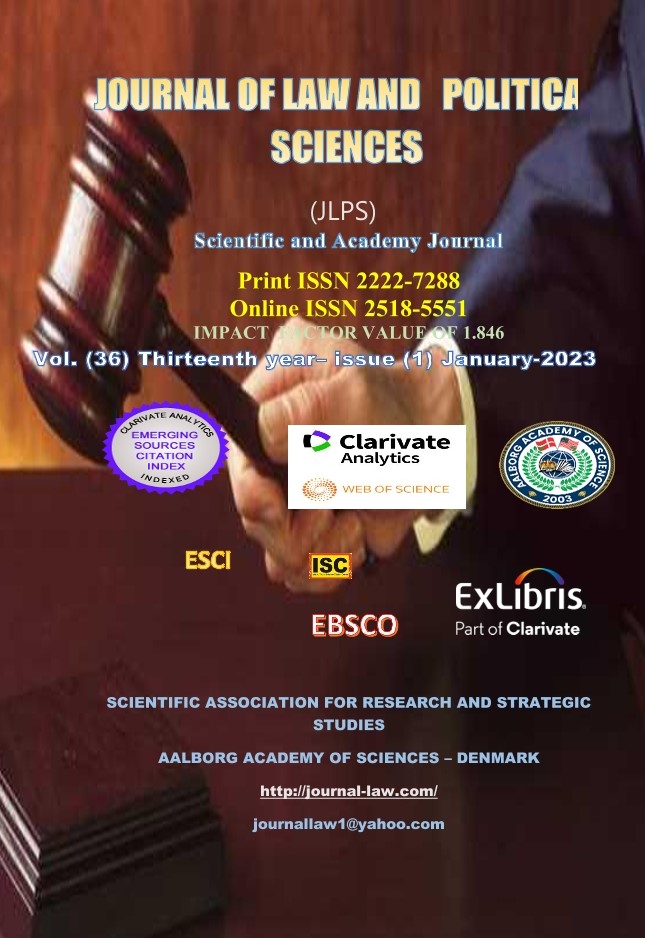 15-Judicial Supervision Over Electoral Process In The Jordanian Legislation. Saddam Al-Awaysheh And Others. Jordan. P. 369.
16-Policies For Developing of Team of Lecturers At Public Universities: A Case Study In Vietnam Law. Phung Van Hien, And Others, Viet Nam, P. 398.
17-The Role of Wipo Mediation in Ip Disputes With A Look At Ip Disputes In Egypt. Dr .Ossama Ahmed Abdelnaem Attalla. Egypt. p. 421.17-
18-Al-Bay'ah (The Pledge of Allegiance): A Legal Way to Gain Power According to Sharia, Majdi Saeed Almarashi. Saudia. p. 424.
19-Implementing the separation of municipal powers in the system of the russian local self-government. Sergey solovev and others. Russia. p. 441.
20-Protection And Promotion of The Rights of Vulnerable Social Groups Under The Constitutional Requirements In Vietnam. Dr. Tran Thai Duong. Vietnam. P454.
Participants in the Vol. (36) issue 1 .January  2023 – English version
1-Administrative And Legal Regulation of Distance And Blended Learning During The Covid-19 Pandemic. Oksana Strelchenko And Others, Ukraine, p. 10.
2-Model Renovation And Policy Proposal For Cooperative Development Of Vietnam. Nguyen Thi Xuan Huong, and Others, Viet Nam, P. 28.
3-Arbitration And Dispute Settlement In Electronic Commerce In Saudi Law. Saud Hamoud Alharthi, Saudia, P. 52.
4-Digital Financial Assets As Links Between The Innovation, Intellectual Property, and Financial Markets. Olga Aleksandrovna Zhdanova, Russia, P. 72.
5-Expeditious Enforcement of Commercial Judgments – A Study In Saudi Law. Dr. Mohammed Sulaiman Alnasyan, Saudia, p. 85.
6-Consumer Protection In Saudi Electronic Commerce Law. A Comparative Study. Saud Hamoud Alharthi, p. 110.
7-Provisions of Receivership In The Jordanian Civil Law. Dr. Alaa Majed Ahmad Bani Younes. Jordan, p. 139.
8-Saudi Efforts To Protect Intellectual Property Rights. Dr Hamdan Darwish Alghamdi, Saudi, p. 160.
9-Conflicting Interests Of International Powers Toward The Libyan Crisis 2014-2018. Dr. Ahmad Khlaif Al-Afef, and others, Jordan, p. 193.
10-Civil Liability Arising From The Misuse Of Electronic Money. Dr. Ali Mohammed Al Zoubi, Jordan, p. 216.
11-External Finance Policies For Dairy Farmers In A Fresh Milk Value Chain: A Case Study In Vietnam. Vu Ngoc Huyen, and Others, Viet Nam, p. 242.
12-The Transaction As An Alternative To Resolve Conflicts In The Algerian Code Of Civil And Administrative Procedures. Dr. Chikh Nassima, And Others, Algeria, P. 279.
13-The Mechanisms And Approaches Of The Icrc In The Enforcement Of International Humanitarian Law. Dr. Majd Noman Abdallah, Ramallah. p. 302
14-International Legal Standards For Expropriation In Traditional and Renewable Energy Markets. Anna Tarasova And Others. P. 336
الإصدار العربي (مجلة العلوم القانونية    والسياسية) Arabic version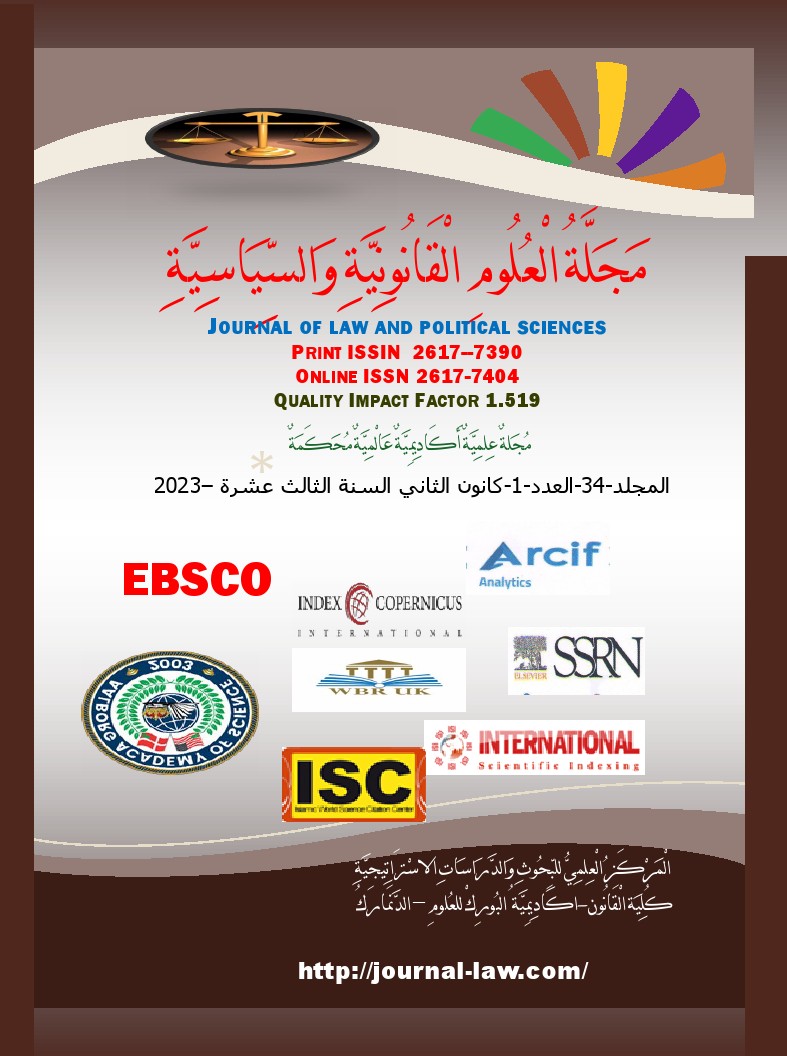 (8)
آلِيَّةُ اِنْتِقَالِ الضَّرَرِ الْمَعْنَوِيِّ إِلَى الْوِرْثَةِ فِي الْقَانُونِ الْمَدَنِيِّ الْأُرْدُنِيِّ( دِرَاسَةٌ مُقَارَنَةٌ) الدُّكْتورَ حُكْمَ حُسْنِ الْعَجَارمَةُ

-الاردن. ص 270

.
(9)
التَّوْقِيعُ الْإلِكْتُرونِيُّ وَحُجِيتِه فِي الْإِثْبَاتِ

،

د.

مُحَمَّدُ الزُّعْبِيِّ جَامِعَةُ عَمَّانِ الْعَرَبِيَّةِ ، د.

مُحَمَّدُ المناصير. ، أكَادِيمِيُّ وَمُسْتَشَارُ قَانُونِيٍّ

ص 285.
محتويات المجلد (34) العدد (1) السنة الثالث عشرة كانون ثاني 2023 
(1)
الأحكَامُ الْمُسْتَحْدَثَةُ لِحِمَايَةِ الْمَالِ الْعَامِّ فِي قَانُونِ الْجَرَائِمِ الْاِقْتِصَادِيَّةِ الْأُرْدُنِيِّ رَقْمً ( 11 ) لَسِنَةِ 1993وَتَعدِيلاتهِ.

الدُّكْتورُ أَسَامَّةُ نَائِلُ المُحِيسنُ وآخرون- الاردن ص 12.
(2)
بَيَانَاتُ الشِّيكِ الْإلِكْتُرونِيِّ وَمَوْقِعُهُ مِنْ باقِي وَسَائِلِ الدَّفْعِ التَّقْلِيدِيَّةِ وَالْحَديثَةِ فِي ظَلِّ التَّشْرِيعِ الْبَحْرَيْنِيِّ

.

أَحْمَدُ عَبْدً للهِ حَسَّنُ عَبْدُ الوَهّابِ أَحْمَدُ الرَّمَضانَ و

د . عَبْدالكَرِيمُ سَالِمُ عَلِيٌّ الْعُلُوَّانِ, البحرين، ص 66

.
(3)
مُوَاجَهَةُ الشُّرُوطَ التَّعَسُّفِيَّةَ فِي عُقُودِ التِّجَارَةِ الأِلكْترُونِيّ (دِرَاسَةٌ مُقَارَنَةٌ).

د. شَيْخُ نَسِيمَةُ وآخرون، الجزائر ، ص 95.



(4)

الْأَحْكَامُ الْقَانُونِيَّةُ النَّاظِمَةُ لِتَوْزِيعِ حَصِيلَةِ الْبَيْعِ الْجَبْرِيِّ- دِرَاسَةُ تَحْلِيلِيَّةٌ فِي قَانُونِ التَّنْفِيذِ الْأُرْدُنِيِّ

.

د. عُدِيُّ مَحْمُودٌ الْعَرُودُ، الاردن، ص 129
(5)
أَمِنُ الْمُجْتَمَعِ وَمَصْلَحَتَهُ لِتَبْرِيرِ التَّوْقِيفِ فِي الْقَانُونِ الْأُرْدُنِيِّ بَيْنَ النَّظَرِيَّةِ وَالتَّطْبِيقَ( دِرَاسَةُ مُقَارَنَةٍ مَعَ الْقَانُونِ الْفَرَنْسِيَّ )

.

د . طَارِقُ عَبْدُ الْمَجِيدِ مُحَمَّدُ عَلِيُّ، الاؤدن، ص 170

.
(6)
الْمَرْكَزُ الْقَانُونِيُّ لِلدَّائِنِينَ فِي مُوَاجَهَةِ إِجْرَاءَاتِ الإِعسَار دِرَاسَةٌ تَحْلِيلِيَّةٌ فِي قَانُونِ الإِعسَارِ الْأُرْدُنِيِّ.

د . عُدِيُّ مَحْمُودٌ الْعرُودُ و

د . إياد مَنْصُورُ الْحَديدِيِّ، الاردن، ص 212.

(7)
الْاِتِّجَاهَاتُ الْحَديثَةُ لِلتَّعْوِيضِ عَنِ الْحوادِثِ الطِّبِّيَّةِ : دِرَاسَةٌ فِي الْقَانُونِ الْفَرَنْسِيُّ وَالسُّعُودِيُّ،

مُشارِيُّ حَمْدانُ الشَّمْرِيُّ، السعودية، ص 242.