The Journal is published in four issues a year: the first issue is on the first of January. The second issue is on the first of April. The third issue is on the first of July. The fourth issue is on the first of October.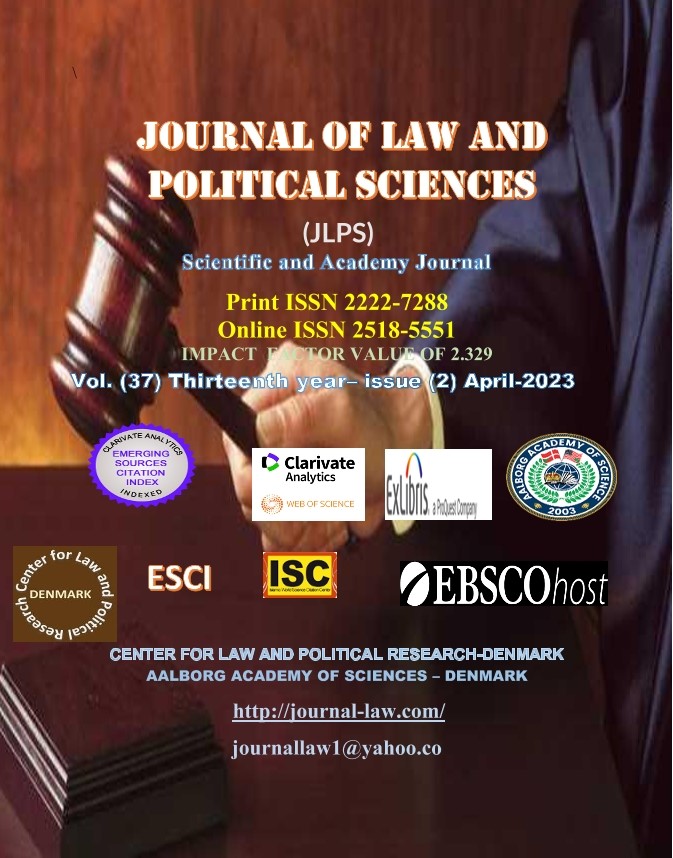 15-Policy For Improving The Quality Of Manufacturing Human Resources Of Vietnam Tea Corporation: Research From Current Vietnam Law. Phuong Huu Tung. And Others. Viet Nam. p.326.
16-Legal And Regulatory Fundamentals Of Interaction Of Civil Society And Government Authorities In The System Of Public Administration. Halyna Shaulska. And Others. Ukraine. p. 345.
17-Revenues And Expenditures of Local Budgets In Conditions Of Decentralization Of Power: Legal Aspect. Nataliia Vorotina And Others. Ukraine. P. 370.
18-Elimination Of Real Estate Partnership According To The Jordanian Real Estate Law. Dr. Hiyam Mahmmud Harb Al- Shawabkeh. Jo. p. 429.
19-Implementing the separation of municipal powers in the system of the russian local self-government. Sergey solovev and others. Russia. p. 441.
20-Protection And Promotion of The Rights of Vulnerable Social Groups Under The Constitutional Requirements In Vietnam. Dr. Tran Thai Duong. Vietnam. P454.
Participants in the Vol. (37) issue 1 .April  2023 – English version
1-Specificity Of Procedural Rules In The Face Of Terrorist Crime Descriptive And Analytical Study. Faris Bin Saleh Al-Faris- Saudi Arabia. P. 9.
2-Current Mechanism Of Implementation Of Administrative And Legal Ensuring Of The Right To Freedom Of Intellectual Activity As A Necessary Condition For Managing The Public Officials' Integrity. Petro Makushev and Others. Ukraine  p. 34. 
3-Protection Of Intellectual Property Rights In Jordan's Constitution According To The Latest Amendments (A Comparative Study). Dr. Shatha Ahmad Al-Assaf. And Others. Jordan, p. 56.
4-Trade Usage In Terms Of Proof And Appeal Under Saudi Law. Dr. Mohammed Sulaiman Alnasyanp. , Saudi Arabia. p. 82.
5-Legal Status And Principles Of Cryptocurrency Circulation. Lyudmila Fokina. And Others. Russia , p. 101.
6-The Legal Basis For The Property Owner's Liability For Damages Resulting From A Breach Of Neighborhood Restrictions In Jordanian Legislation( Overhangs And Skylights Are A Model) Najm Riad Al-Rabadi And Others. P. 121.
7-Non – Physical Punishments Contained In The Holy Qur'an. Dr. Abdullah Saleh Abdullah Alomar. Saudi Arabia. P. 144.
8-The Concept Of Humanitarian Intervention In The Context Of Constitutional And Legal Policy Of The State. Viktoriia Ternavska And Others. Ukraine. P. 162.
9-Impact Of Compensation On The Civil Liability Resulting From The Disclosure Of The Bank Secret. "Mohammad Ashraf" Khalid Ali Al-Qheiw And Others. Jordan. p. 174.
10-The Impact Of A Learning Management System Of Viet Nam Education Law On Student Performance Through Academic Motivation. Duong Cam Tu And Others. Viet Nam, p. 193.
11-A Legal Study On Proportionality Of The Punishment To The Crime. Hoda Ahmad Albarrak. Saudi Arabia. p. 230.
12-Violation of The Sanctity of Real Estate According To The Provisions Of Jordanian Legislation. Dr. Ali Mohammed Al Zoubi, , Jordan. P. 247.
13-Electronic Testimony And Its Probative Value, A Study In The Jordanian Legislation, Dr .Mashal Mufleh Jarrah. And Others. Jordan. 273.
14-Protection Of New Plant Varieties In The Saudi System In Light Of The Upov Agreement. Dr Ahmed Mohamed Fathy Elkholy, Saudi Arabia. p. 300.
الإصدار العربي (مجلة العلوم القانونية    والسياسية) Arabic version
(8)
آلِيَّةُ اِنْتِقَالِ الضَّرَرِ الْمَعْنَوِيِّ إِلَى الْوِرْثَةِ فِي الْقَانُونِ الْمَدَنِيِّ الْأُرْدُنِيِّ( دِرَاسَةٌ مُقَارَنَةٌ) الدُّكْتورَ حُكْمَ حُسْنِ الْعَجَارمَةُ

-الاردن. ص 270

.
(9)
التَّوْقِيعُ الْإلِكْتُرونِيُّ وَحُجِيتِه فِي الْإِثْبَاتِ

،

د.

مُحَمَّدُ الزُّعْبِيِّ جَامِعَةُ عَمَّانِ الْعَرَبِيَّةِ ، د.

مُحَمَّدُ المناصير. ، أكَادِيمِيُّ وَمُسْتَشَارُ قَانُونِيٍّ

ص 285.
محتويات المجلد (35) العدد (2) السنة الثالث عشرة نيسان 2023 
(1)
حِمَايَةُ حُقُوقِ الْمَلِكِيَّةِ الْفِكْرِيَّةِ لِمُؤَلِّفِ الْكُتُبِ الأَلِكترُونِيَّةِ. أ . د  سُهَيْلٌ حُسَيْنُ الْفَتْلاوِيُّ ، الاردن ص 12.
ا
(2)
جُهُودُ الْمَمْلَكَةِ الْعَرَبِيَّةِ السُّعُودِيَّةِ فِي مُكَافَحَةِ جَرِيمَةِ غَسْلِ الْأَمْوَالِ  دِرَاسَةٌ قَانُونِيَّةٌ فِي النِّظَامِ السُّعُودِيِّ. أ. د. أَشجانُ خَالِصٌ حَمُو الزُّهَيْرِيُّ-السُّعودِيَّةُ. ص 55.
(3)
مُدَى مَشْرُوعِيَّةُ اللُّجُوءِ للتَّعْلِيم عَنْ بُعْدٍ فِي ظَلِّ الأَزَمَاتِ ( جَائِحَةُ كُوِّرُونَا حالَةٌ تَطْبِيقِيَّةٌ ). د . رَبَّى اِحْمَدُ الْعَرْمُوطِيُّ و ا . د . أَسَامَّةُ اِحْمَدُ الْحَنَاينَةُ. الاردن، ص 92.
(4)

حُرِّيَّةُ الرَّأْي وَالتَّعْبِيرَ فِي الاردن بَيْنَ الْحَقِّ الدُّسْتُورِيِّ وَالْقَيِّدِ التَّشْرِيعِيِّ. د. هَنَاءُعَليُّ الْهَوْرُ و ا . د . أَسَامَّةٌ اِحْمَدْ الحَنَاينَةُ. الأردنُ، ص 110.
(5)
تَأْثِيرُ نَظَرِيَّةِ الْأَجَلِ عَلَى الْعُقُودِ الْإِدَارِيَّةِ -عُقَدُ البُّوتِ وَالفِّيدِيكِ    نَمُوذَجَاً. د. إيمَانُ عَبْدُ الْفَتَّاحِ الْعَلِيُّ وآخَرَونَ. ص 53.
(6)
أَحُكَّامُ التَّعْوِيضِ عَنْ قَرَارِ الْاِسْتِمْلاكِ فِي قَانُونِ الْمَلِكِيَّةِ الْعَقَارِيَّةِ  الأُردِنِيِّ. د. هِيَامُ مَحْمُودُ حَرْبُ الشُّوَابِكَه وآخرُونَ. الأُردنُ، ص 193.
(7)
الْاِتِّجَاهَاتُ الْحَديثَةُ لِلتَّعْوِيضِ عَنِ الْحوادِثِ الطِّبِّيَّةِ : دِرَاسَةٌ فِي الْقَانُونِ الْفَرَنْسِيُّ وَالسُّعُودِيُّ،

مُشارِيُّ حَمْدانُ الشَّمْرِيُّ، السعودية، ص 242.